A specialist roofing company, offering a wide range and roofing repair and installation services in Stevenage and the surrounding areas.
We offer a comprehensive range of roofing services in Stevenage.
With decades of experience, we have earned a strong reputation in the Stevenage area for both roofing repairs and roofing installations. We work closely with each and every customer to ensure that we not only meet their roofing expectations, but exceed them too.
Our track record demonstrates that we are the popular choice for domestic and commercial customers, dedicated to offering great quality service that delivers value for money.
We are committed to providing excellent customer satisfaction, and have a great track record of successfully completed roof projects of all kinds.
Why choose JR Roofer for your commercial projects
As an established contractor we have a great track record of delivering contracts of all kinds across the commercial and local authority sectors. We work with professionalism and always endeavour to produce the best outcome for the client.
We are fully accredited with nationally recognised trade bodies Trust Mark and Fairtrades, we are a registered waste carrier, and hold full insurance of up to 5 million pounds.
We have also been accredited for local government contracts, and for carrying out work on behalf of insurance companies.
Stevenage Roofing Specialist
Whether you need repairs, or are looking for a roofer as part of an extension or new build project, we are providing services for homeowner and self-builders too.
With our strong reputation for customer service, you know you can rely on us for: lead & felt roofing, chimney repairs, guttering, emergency roof repairs and much more.
Flat roofs can require regular maintenance to keep them in good order – we can repair or replace any flat roof and install fittings such as roof-lights too. Or why not find out more about the benefits of GRP roof as a modern alternative for your flat roof.
Specialist roofing for listed buildings in Stevenage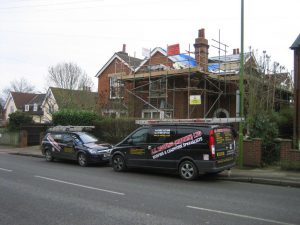 Many properties in the area originate from the Georgian, Victorian, Edwardian eras, requiring knowhow of traditional roof systems & the problems typical of older buildings. As experts in a broad range of roofing, we are skilled in restoration work, where respect for the heritage of the house is required and where listing may be an issue.
Church roofs & lead work
Our experience in working on church roofs in particular means we have developed considerable knowhow of the traditional methods & materials used. We are experts in lead work and have a good quality supplier who only supplies British made lead.
Are you looking for roofers in Stevenage?
There is further information available on our website that describes what we do and the benefits of using us as your roofer. If you have any questions, or would like to arrange for a quote or an assessment, please get in touch on the phone or using our easy web form.
Whether you have a traditional type roof, a flat roof, or a non-conventional roof, we can provide new roofs, replacement roofs, GRP roof, slate, tiling, lead and chimney work.
Get in touch for high quality & reliable roofing in Stevenage – Our expert roofers are happy to discuss your project and provide a free quote.
We are happy to supply recommendations or references from recent clients, so why not ask for further information.
Testimonials:
We tried a couple of roofers before JR, but they disappointed us with their pricing and delayed responses. From your free survey through to the start of work on the promised day, everything was really smooth. Your team were courteous, tidy and happy to explain what they're doing. I would have no hesitation recommending you at all.
My roof was leaking due to some broken tiles which needed replacing urgently. One of your experienced roofers came immediately to assess the situation. I was pleased with the quote, they did an excellent job and I am really pleased with every aspect of it. Many Thanks.
All your staff including the people who worked on the house have been very professional. I'm happy we were able to find such a great contractor in Stevenage!